Civil Pro is a quality assurance system, which is supported by the Civil Pro software. The principles of the system ensure users have a robust methodology for creating and maintaining quality assurance on projects of any size, and that data is easily found from any starting point. Right from the first Lot, you will see that (by default) Civil Pro ensures something as basic as the Lot Number provides reliable cues to the user. Instead of users generating singularly unhelpful numbers like Lot001, a Civil Pro lot number embeds information on what work is associated with the lot, and where the work occurred – all using two Registers set up once at the start of the project. Like most things in Civil Pro though – if you want a different lot numbering system, just customise it.
One of our key focuses in developing Civil Pro is ease of use. We aim to minimise the user's effort to achieve any given task and ensure our interface is familiar to users of modern software products. The majority of data entry functions are through guided 'wizards' allowing the creation of new Lots, Test Requests, Non Conformance Reports and Checklists in just a few clicks. Records can be tied together simply by dragging and dropping, and there are keyboard shortcuts for nearly all high-use functions.
Civil Pro is designed to support ISO9000 series quality assurance systems, and provides all of the functionality necessary for compliance with Queensland Transport and Main Roads, NSW Roads and Maritime Services and VicRoads projects.
Data Representation
Summary Data Views – Civil Pro Registers
Regardless of how many smarts we can put in the software, quality assurance is still largely a data intensive operation. Lot registers with thousands of entries, tens of thousands of test requests and sometimes hundreds of NCRs are expected on larger projects. Making this information available to teams of users without lag, and in an easily interpreted manner is what Civil Pro does best.
Every register provides a summary table of its contents for easy navigation. These data grids can be filtered, sorted, grouped (multiple levels) and searched. By default the most useful data for each record is shown – but any data can be shown in its own column in the grid either by changing to one of several different pre-defined views, or adding/removing individual columns. When you have a configuration in the grid you use commonly – save the view either as your default or as a named view. The below screenshot shows the Lot Register grouped by Status and Work Type, but any configuration is easily set, and then saved for reuse.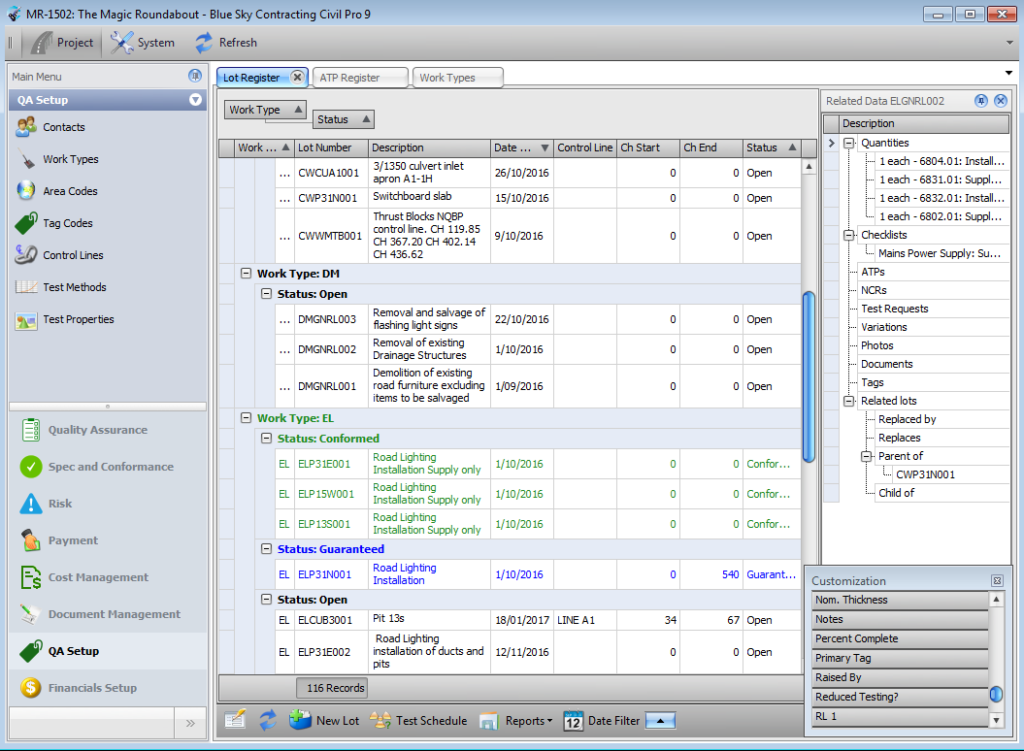 Detailed Views – The Detail Pane
Every Register also includes a Detail Pane. This can be hidden or made visible by double clicking a record in the Register. It contains all of the data fields for each record – not just the key data shown by default in the grid. Data is editable both in the Detail Pane and in the grid. The above screenshot shows this Detail Pane for the Lot Register.
Related Data
As each record in the grid is selected, the pane to the right is updated to show the data related to the current record. In the Lot Register, this related data includes Test Requests, NCRs, Checklists, Quantities, Variations, e-Docs, ATPs, Photos and other related Lots. Navigating to the related item is as simple as clicking on the item, and creating a link is just as easy. Want to link an NCR to your lot? double click on the NCR related items header to get the NCR register. Select one or more NCRs, and drag them. Done.
Reporting
Civil Pro provides a powerful reporting engine for summary and detailed reporting. Any of the Registers can be output directly to a report simply by selecting a menu option. The resulting report retains any of the filters, sorting and grouping applied to the grid.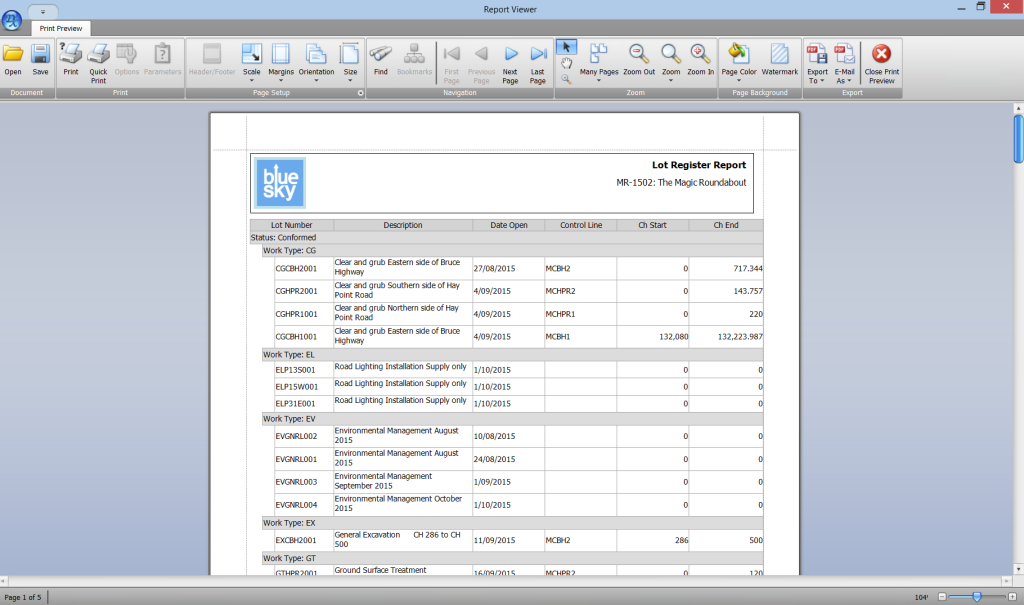 Detailed reports are available for each document type including Lot Conformance Reports, Non Conformance Reports, Test Requests, Inspection Test Plans, Checklists, Authorities to Proceed, Quantity Measure Up Sheets and Progress Claims.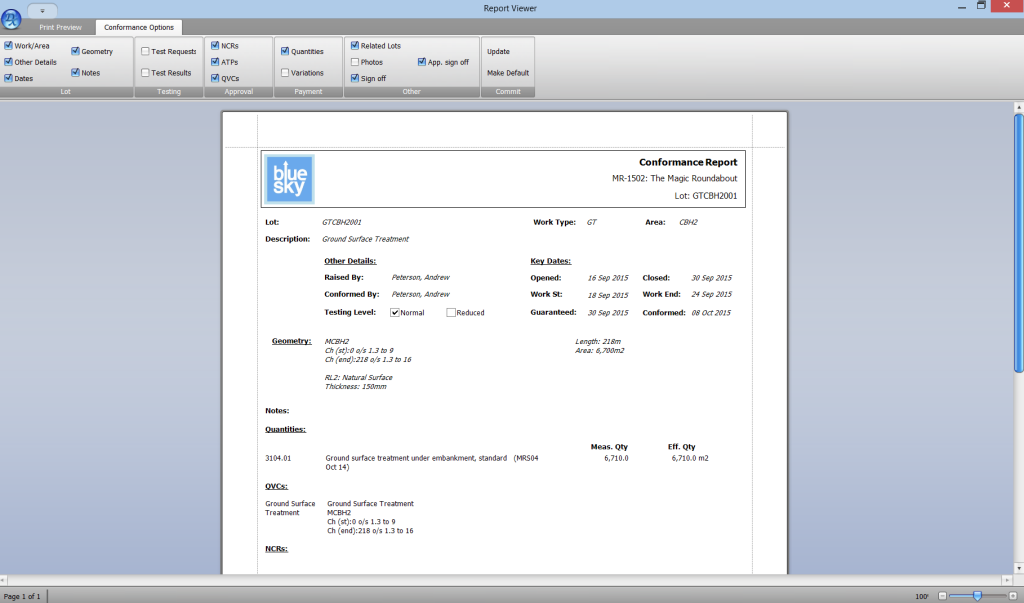 All reports are initially displayed in a preview form, from where they can be printed or exported to many formats including PDF, HTML, RTF, XLS, TXT, XLSX or several image formats.
More Information
For more details regarding Civil Pro, check out the following summary information;