User settings are specific to users across all projects in the database. There are not many user settings because changes with version 9 facilitated greater customization of forms and reports, which use a different system. This enabled us to remove a lot of complexity.
The user settings are accessed from the Program Menu under System=>Settings=>User Settings.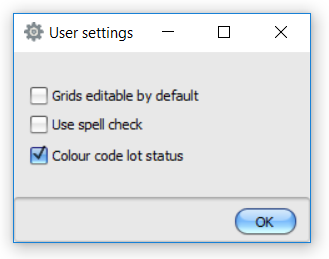 User settings include;
Grids editable by default – selecting this option will enable editing in all forms by default. This is by far the most commonly used setting
Use spell check – when selected, a spell checker is available in many large text fields. This is off by default as their is a performance cost
Colour code lot status – when selected, lots are coloured according to their status by default when viewed in the lot register. This can be changed in the lot register itself, but will not persist after closing like this setting will.