The lot summary provides a way to create a report showing all of the records associated with a lot including attached lot documents. This function is only available on a lot-by-lot basis. The conformance folio enables the generation of Civil Pro reports for one or more lots, NCRS, Test Requests etc. It does not include attachments.
Lot Summary
The lot summary is created by selecting a lot and selecting the Lot Summary option from the Reports menu in the bottom toolbar. A page will be displayed showing a list of all of the related records and documents. Simply select the ones you want to be included in your report and click the preview button.
Once you have the report you want, click on Save As or Print.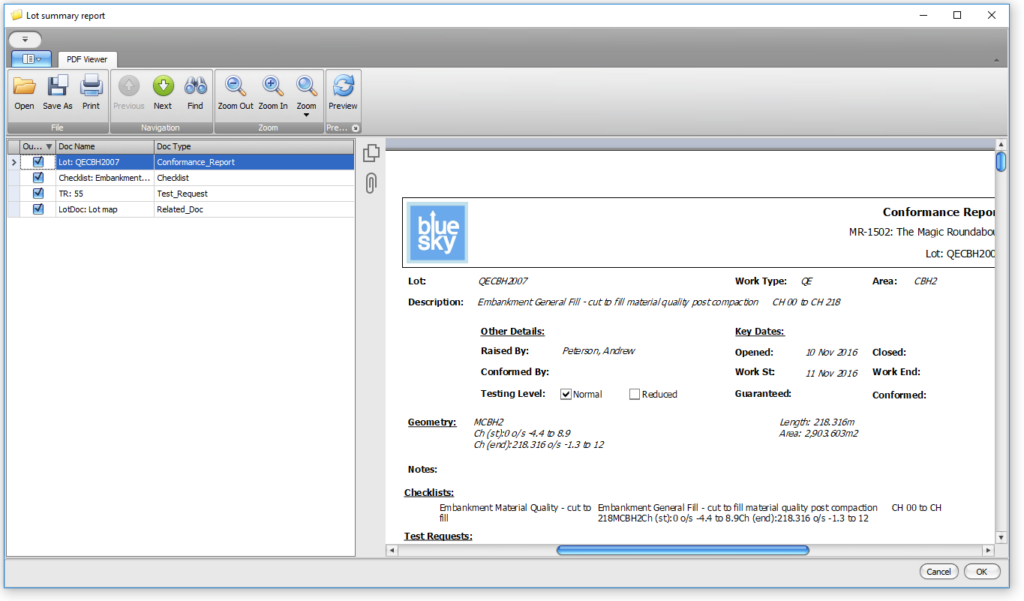 Civil Pro can render  attached lot documents of type xls, xlsx, pdf, doc, pdf and txt.
Conformance Folio
At the end of the project, or at various points along the way, it will be useful to get all of your Civil Pro documentation into a neat summary. This is done by building a Conformance Folio (version >8.09.56).
Conformance Folios are created by selecting one or more lots in the Lot Register, and clicking the Build Conformance Folio option from the Report Menu.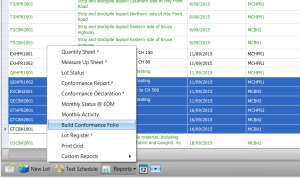 Once the button is clicked, you will be prompted for a location in which to store the Civil Pro PDFs.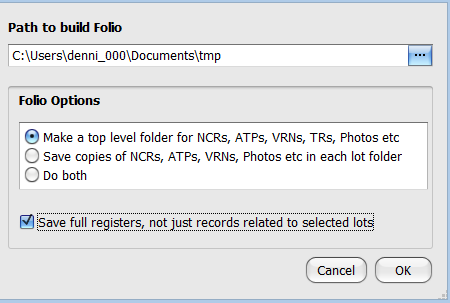 The other options have the following effect:
Make a Top Level Folder for NCRs, ATPs, VRNs, TRs, Photos etc
Using this option, the NCRs, ATPs etc that are referenced by the selected Lots will be saved in a top level folder, rather than in a sub directory of the lot.
Save Copies of NCRs, ATPs, VRNs, Photos etc in Each Lot Folder
With this option, NCRs are saved in a directory under the lots they are referenced by. This will mean some duplication of records (for example if an NCR is referenced by 2 different lots, it will be under the NCR folder in each lot directory), but makes sure all records relevant to each Lot are stored with them.
Save Full Registers (only available with the top level output)
By default, Civil Pro inspects the selected lots, and prints only Test Requests, NCRs etc that are relevant to them. If this option is selected  then individual records for the full Register is printed for every Register. For example:
Peter has 25 NCRs in the NCR Register. He selects a single lot SGMC01001 and invokes the Conformance Folio Builder. Lot SGMC01001 has a link to NCR14.
– Save Full Registers is not selected – only NCR 14 is printed
– Save Full Registers is selected – all 25 NCRs are output
Once the options are selected and OK is clicked, Civil Pro compiles the documents in the specified folder: